*please note - website does not always display correctly in Firefox. Chrome seems to be the best browser for viewing this website.

SD 4-H State Fair Book 2020 - https://extension.sdstate.edu/sites/default/files/2020-03/MC-00844.pdf

TLC, Performing Arts, SDSU Livestock Judging Camp Scholarships
There is a $25 scholarship available for 4-H'ers who attend TLC (registration cost is $60). There is a $50 scholarship available for 4-H'ers who attend Performing Arts (registration cost is $150). There are two levels of assistance for the SDSU Livestock Judging Camp. If you paid a $75 registration fee to watch the videos and judge livestock, there is a $25 scholarship available. If you paid a $150 registration fee to also have access to exclusive reasons training, there is a $50 scholarship available. Please indicate on the form which level you are applying for, and be specific on what you learned in the comments for the appropriate level. Here is how the scholarship program works.

·
Step 1 – Register for the 2020 camp and pay the full camp fees.

·
Step 2 – Attend virtual camp and have a great time!!



·

Step 3 – Tell one group about camp.

·
Step 4 – Complete the camp assistance/scholarship application form

with all signatures and submit to the SD 4-H Leaders. Electronic signatures are acceptable, and the completed form may be scanned and emailed or mailed. You will receive your scholarship money within 2 weeks of its receipt. Applications are

due by December 31, 2020

.
**Click here for the scholarship form.

Register for South Dakota Summer Adventures
https://extension.sdstate.edu/event/south-dakota-summer-adventures-virtual-program
As South Dakota citizens continue to practice physical distancing, South Dakota 4-H is gearing up to provide youth across the state with an opportunity to learn, create and develop skills virtually with their peers through the South Dakota Summer Adventures program.
Throughout the 11-week program, youth will be engaged in a variety of educational experiences including, but not limited to, live Zoom sessions and discussion boards. Additionally, youth will have an opportunity to participate in a variety of challenges each week with the top five individuals from each challenge receiving a monetary prize. At the end of each week, a family challenge will encourage youth to utilize skills and tricks they learned throughout the week with their families.
The series is open to all school age South Dakota youth. Each week South Dakota 4-H will provide participants with up to eight educational experiences, four youth contests and one family challenge. Topics for each week are as follows:
Week 1, June 1 - 5: 1..2..3..Garden with Me!
Week 2, June 8 - 12: Creative Communities
Week 3, June 15 - 19: Sports & Recreation
Week 4, June 22 - 26: Creative Clovers
Week 5, June 29 - July 2: Back to the Basics
Week 6, July 6 - 10: ExploCHEF
Week 7, July 13 - 17: Wonders of Water
Week 8, July 20 - 24: Critter Crazy Days
Week 9, July 27 - 31: Wellness Warriors
Week 10, Aug 3 - 8: Explore Outdoors
Week 11, Aug 10 - 14: Say It Loud, Say It Proud!

Please register online using the link above. For more information contact Christine Wood, SDSU Extension 4-H Science Technology Engineering and Math (STEM) Field Specialist.
 
State 4-H Events & Deadlines 2020!
Here is the latest schedule for State 4-H Events & Deadlines 2020. We will periodically update throughout the year.
2020 State 4-H Events & Deadlines

Mini Grants Winners Announced!
We are excited to announce the recipients of the 2020 Mini Grants. We chose 18 projects for a total or $8300 in grants. The purpose of the Mini 4-H Grants Program is to address youth needs at the local level. The 4-H Leaders Association recognizes that the greatest impact of 4-H occurs at the local level, usually between youth and 4-H volunteers. We look forward to hearing about the impact of these projects!
Butte – Freezer Meals Made with Love – Learn how to make home-cooked meals and give to SD Kids Belong (foster families) local program. Promote Special Foods interest, health and nutrition information, and community and volunteer service.

Clay – Mini TLC – Organize a local workshop for TLC age 4-H members addressing leadership skills, team building, communication skills and community service, with and end goal of encouraging more attendance at State TLC.

Grant – Bike Rodeo/Safety Day – Fit participants with a properly fitted complimentary bike helmet, do bike safety check, obstacle course, ambulance tour, highway patrol presentation, first aid safety kits and a fun ride, to include learning rules of the road.

Haakon – 4-H After School Clover Kids – Provide after school programming to include skill and knowledge building lessons. Provide a safe, educational and supportive environment while working to increase interest in 4-H.

Harding – Dig Deep Outdoor Education Day – Guide youth to the outdoors to teach about plants and wildlife to introduce ecology, conservation and stewardship. Teach about natural pest control and benefits of composting and soil health. Visit local ranch to learn how turkeys can be raised used for control of grasshoppers. Youth will build their own worm composter with herbs planted around the composter portion. Participate in community garden.

Jones – Entomology Project – Collection, identification, preservation and displaying of insects found in local area and exhibit in 4-H. Discoveries related to insects that are helpful to humans, and those that are harmful to humans and livestock. Understand the place that insects play in the animal kingdom and how insects affect agriculture.

Lawrence – Create Curriculum & Promote Pork Workshop – Bring in youth to learn about livestock, cooking, meat judging and identification through a chicken/livestock BINGO and a pork workshop at county 4-H fair.

Mellette – Middle School Science Fair/Science of Ag – Provide resources and host a local science fair with goal to learn about agriculture and science fair experiments, and exhibit at science fair. Encourage participation in State Science of Ag Show.

Miner – Bread Baking Workshop – Make bread from scratch, learn about yeast and gluten and how to make different finished products.

Multiple (SD) – Ambassador Summer Retreat – Identify basic tools for outdoor cooking, practice proper food preparation skills while outdoors, try easy and appealing recipes for outdoors, learn safety skills while utilizing fire as a heat source, and foster critical thinking and team building skills.

Pennington – Child Development Outreach – Reach out to help teenage parent families by creating Child Development mini-backpacks with age-specific development toys, activity ideas, books and resources, as well as information about 4-H and the benefits/activities of 4-H.

Perkins/Corson/Dewey – Tri-County Livestock Day – Teach livestock handling with proper horsemanship and how to use a Bud Box.

Roberts – Livestock/Companion Animal Workshop – Teach pre-show day preparations, show-day activities, and after-show needs for swine, cattle, goats and companion animals. Encourage participation in companion animal project area.

Sanborn/Jerauld/Aurora – Teen Leadership Academy – Provide leadership opportunities for senior level members through commitment and participation in a multi-month program that includes activities that develop these components: college & work force preparation, community service and volunteerism, engage in government, communication & public speaking, media and public relations and meet businesses/industry.

Spink – Mental Health Breaks – Provide multiple days to support youth, teens and young adults with different mental health disorders with a safe space to create, visit with others or rest.

Union – MyPI – MyPI = My Preparedness Initiative-Program to gain valuable skills to be prepared for many kids of emergency or disaster situations, such as fire, medical operations and triage, search and rescue, psychology, terrorism and careers.

Walworth – Shooting Sports Program – Expansion of shooting sports program to facilitate growth of numbers and disciplines, develop life skills through program in safe environment.

Yankton – Boys & Girls Garden Club – Teach kids about planning, planting, caring for and harvesting with community garden, and teach them about meals that can be prepared with produce from garden.

Order shirts, hoodies, jackets or hats!
We rolled out new shirt logos for the 2019 State Fair! Congratulations to the winning entries from our logo contest submitted by Cally Faulhaber, Angela Munsen and Jackie Kessler! If you weren't able to make it to the State Fair, you can still order your shirt, hoodie, sweatshirt, polo, jacket, or even hat!! The new logos are below and you can find older logos as well as all the shirt style/color options on our shirt page: T-Shirts & Hoodies. Here is the link to the TShirtOrderFormNew2019.pdf.


Heart Hands logo by Jackie Kessler
 




Keeping It Rural Logo by Cally Faulhaber



Practice Perform Logo by Jackie Kessler


 


Heartbeat Logo by Angela Munsen


 


Gate Open-Beef by SD 4-H Leaders


Gate Open-Dairy by SD 4-H Leaders


Heartbeat-Alumni Logo
 


Proud Grandpa Logo by SD 4-H Leaders

Proud Dad Logo by SD 4-H Leaders

Proud Mom Logo by SD 4-H Leaders

Proud Grandma Logo by SD 4-H Leaders
Black Hills Gold/Silver 4-H Pendants & Tie Tacks for Sale
These Black Hills Gold/Silver 4-H pendants and tie-tacks sell exclusively from the SD Association of Extension 4-H Professionals. Funds acquired through these sales help offset costs when our SD 4-H advisors/staff go to national meetings and obtain professional development. On the form, the pin is a tie tack and a pendant is a necklace. Buy for yourself or give as a gift! Here is the order form:
Black_Hills_Gold__Silver_Order_Form_Fillable.pdf
.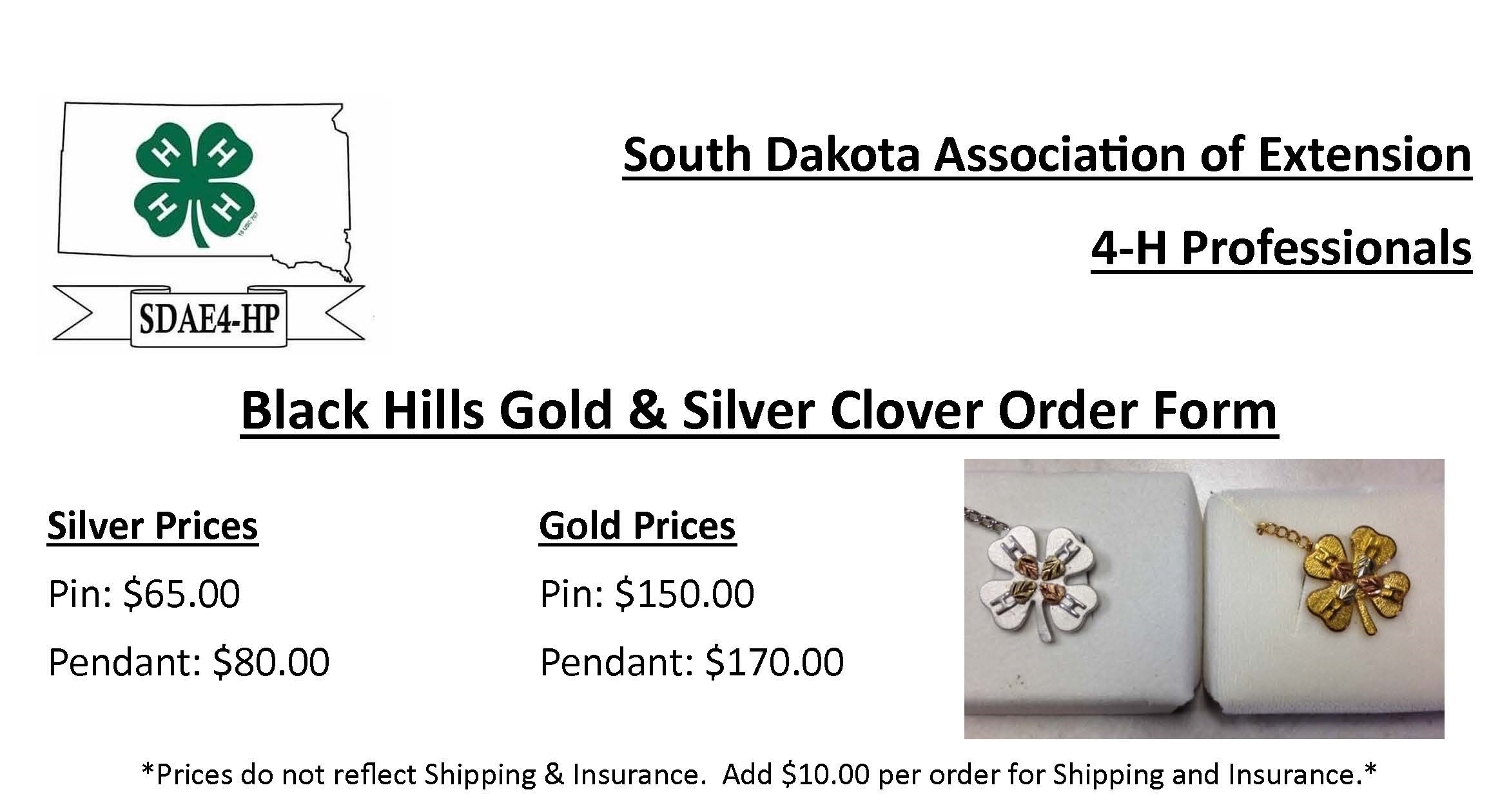 SD State Fair Thank You!
Thanks to the efforts of so many that helped make our SD State Fair a grand success! Congratulations to our 4-H members for many quality projects!
We give a special thank you to our sponsors and support for the 4-H Leader events, that help us be successful with our events along with our volunteers. If you have the opportunity – please offer a personal thank you for their support.
SD Beef Industry Council - $700 towards BBQ
Midwest Dairy Association, along with assistance from Cass Clay – donate all milk and ice cream for BBQ
Wieman Land & Auction - $400 towards BBQ
Ag Media Research - $250 towards BBQ
ADM (Archer Daniels Midland) - $250 towards BBQ
Mitchell Livestock - $200 towards BBQ
First National Bank, Cortrust Bank & American Bank & Trust donated napkins for the BBQ
Because of these sponsors, we sold BBQ tickets for just $3 – let them know how much you appreciate their support!!
We are thankful for delicious food to serve at the BBQ – shredded beef prepared by L&M Foods (Leonard Doll) of Huron and milk and ice cream through Midwest Dairy Association.
We thank Vern's Mfg of Miller for the use of panels for our 4-H dance and the 4-H Youth Council for setting up and tearing down panels, as well as serving water at the dance!
 
We thank the State Fair office staff and the State 4-H staff for all their help and support!
And we are extremely thankful for the many, many volunteers that give their time and support to our 4-H Leader events! Hoping I have not missed anyone! Thank you – what a fabulous 2019 State Fair!
State Fair 4-H Book is online:
https://extension.sdstate.edu/sites/default/files/2019-04/MC-00344.pdf

Announcing: Project launched to help youth: Listen, Learn, Lead
https://listenlearnlead4h.weebly.com
Danika Gordon, who is a nine-year Butte-Lawrence County 4-H member, has created a new leadership project as part of her role as a current state 4-H ambassador. Gordon has established a website titled Listen, Learn, Lead – or L3 for short. For 2019, she has posted four TED Talks for youth to listen to on the site at https://listenlearnlead4h.weebly.com/. Discussion questions developed by Gordon are also listed with each of the talks to prompt reflection either as an individual or group setting. Gordon suggests youth might gather to watch the TED Talks during a 4-H club, 4-H junior leaders or FFA chapter meeting, or simply during free time or as a family. She says the project was designed to be similar to a book club. After watching the TED Talk, youth can have a short discussion with others about what they learned or agreed with – or maybe disagreed with – from the presentation. The topics Gordon selected for this year's TED Talks highlight introverts, body language, views on leadership and thoughts on what helps people be successful in school and life. Gordon hopes to select four new TED Talk presentations annually to continue fostering learning and leadership among South Dakota youth. Youth who watch the TED Talks and then post a comment on the L3 Facebook page, will also be entered into a drawing for an Amazon gift card. To learn more check out: https://listenlearnlead4h.weebly.com
 
Quick Links
4-H Shooting Sports rules: https://extension.sdstate.edu/south-dakota-4-h/competitions-state-fair
State 4-H Rodeo Resources: https://extension.sdstate.edu/south-dakota-4-h/competitions-state-fair
4-H Event Deadlines: https://extension.sdstate.edu/south-dakota-4-h/4h-event-deadlines
Camps & Conferences: https://extension.sdstate.edu/south-dakota-4-h/camps-conferences
Contacts: https://extension.sdstate.edu/about/our-experts
State Fair 2018 results here!! https://extension.sdstate.edu/south-dakota-4-h/results-recognition

Judging 4-H Cookies & Bars
Here is the first of the training videos from SD 4-H Leaders.
Link to the video https://youtu.be/g6hjXzfrY
Link to a document with more information that could be printed for reference http://www.southdakota4hleaders.com/Judging/JudgingCookies.pdf
We hope that this video (and the ones to come) will be a good resource for judges, as well as for our families preparing the exhibits.
Exhibit Hall Fundraising
Kudos to so many of you for a tremendous job at fundraising, donations and support of the new Exhibit Hall! How wonderful it was to use the building this year during the SD State Fair!
Currently, our new overall State Fair Foundation campaign total is over $4.37 million towards the $4.7 million goal! We encourage you to continue your efforts, and if you have not made a commitment, respectfully ask that you work towards that.
Here is more information:
SD 4-H is on Facebook!!
Click here to find SD 4-H on Facebook and find the latest information revolving around 4-H activities in SD.

Click here to find SD 4-H Leaders Association on Facebook!
Rural Youth Loan Program
Here is information about the Rural Youth Loan Program available to 4-H members. The U.S. Department of Agriculture's Farm Service Agency (FSA) makes operating loans of up to $5,000 to eligible individual rural youths age 10 through 20 to finance income-producing, agriculture-related projects. The project must be of modest size, educational, and initiated, developed and carried out by rural youths participating in 4-H clubs, FFA, or a similar organization. For more information, leaders should contact their local FSA Office or visit http://www.fsa.usda.gov.
A one page fact sheet is available at: http://www.fsa.usda.gov/Internet/FSA_File/loanyouth.pdf.

Farm Credit has a similar program available for youth loans! You will find information on their website http://www.myaglender.com/youth-loans_5152_ct.aspx.

 
Visitors to 4-H Leaders Page: